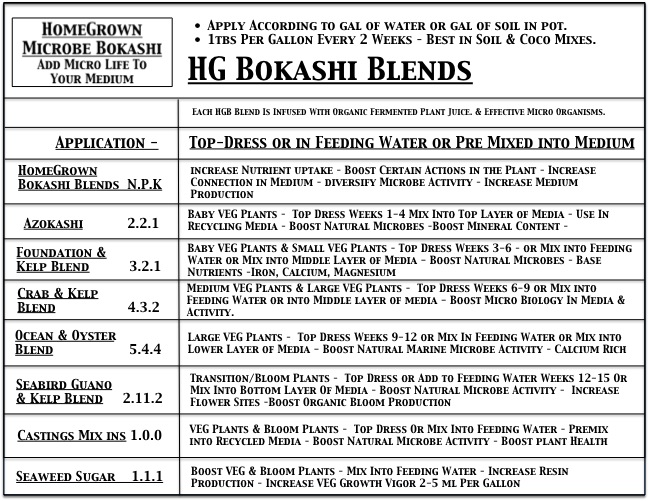 Growers Can Use The Blends In Different Ways.
We Recommend All Be Combined With Castings Mix ins Tea or Compost Tea/Top-Dress
The Top 3 Ways We See The Blends Used:
1- Pre Mix - "HG Bokashi Super Soil" Mix - Mixing The HG Bokashi Blends Threw The Entire Medium - Allowing The Inputs To Activate Togther Before The Plant Is Transplanted. 
2- Pre Mix Layering For AutoFlower  "HGB Auto-Layering" - Layering The HG Bokashi Blends In A Certain Order Threw The Medium - Allowing The Roots To Hit Certain Layers At Certain Times Of The Plants Development.  
2- Topsoil Feed - Sprinkle Thin Layer Of Certain HG Bokashi Blends Onto The TopSoil At Certain Times Of The Plants Development.
3- Bokashi Tea or Into a Compost Tea - Vortex Tea Brewers are Fantastic - Brew Into Pure Aerated Water For 12 - 18 Hours -  Mild Bubbles not Rough. Filter.  1 Teaspoon Of Bokashi Per Gal Of Tea.
IF USING COCO - VEG WORM CASTINGS MIX INS ARE REQUIRED FOR HEALTHY PLANT RESULTS
Instructions For Best Results!
HomeGrown Bokashi Mix-In SOIL/Less HG Bokashi Soil MIX Coco or Soil
When Mixing For Transplants
2/3 soil-less medium (e.g. coco fiber) or 75%Coco/25%Compost Mix
1/3 large Perlite/GrowStones/Expanded Clay Pebbles for aeration
1-2% HomeGrown Microbe Bokashi Blend
Mix well- 1lb Bokashi Per 10Gal Of Soil Or Coco/Soil Mix.
Top Dress Feeding:
Mulch Dressing (Top Layer)
1 Teaspoons Per Gal Of Soil  Add HomeGrown Microbe Bokashi Directly On Top Soil
Example'; 5Gal Pot = 5Teaspoons or 10 Gal Pot = 10 Teaspoons
*Apply Top Dressing Every 2 Weeks

If A Cover Crop Is Planted/ or Hay Is Used To Cover Top Soil, The More Active The Microbes will Be.
N.P.K HomeGrown Microbe  Bokashi Blends 
(Crab & Kelp) (Foundation & Kelp) (Ocean & Oyster) (Seabird Guano & Kelp) (Veg & Bloom Boosters)
When Using The N.P.K Blends Be Cautious Pairing With Other N.P.K Inputs To Prevent Over Fertilization & Burn.
Cut Regular Feeding Schedule in Half When Using The N.P.K Bokashi Blends with other N.P.K Products.